Apple & Eve/Lassonde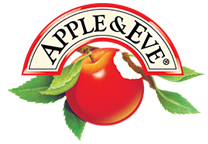 Apple & Eve is the largest privately held juice company in the US and produces and markets more than 100 different juice products. In 1975, Gordon Crane founded Apple & Eve and started its fruitful journey the same way it continues today - as a family. For the past 40 years, Apple & Eve has remained focused on providing families with pure, healthy juices that taste as good as they are good for you and your kids.

Apple & Eve introduced the first-ever juice box in America and 100% organic juices way before organic was a household term. There's no greater feeling than watching a generation who grew up on Apple & Eve's juices serve them to their families. In 2014, Apple & Eve joined hands with Lassonde Industries, another family-owned business.

Apple & Eve pours a whole lot of love into every juice box and bottle. Fill-up on your favorite flavor or discover something new from 100% juices to yummy fruit and veggie blends. Apple & Eve's products include 100% Juice, Cool Waters, Sesame Street, Fruitables, Organics, Organic Quenchers, Water Fruits, and On-the-Go.
Pierce Cartwright Main Contacts
---