Maple Leaf Farms, Inc.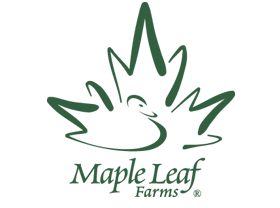 Around here, duck is a family affair.
Maple Leaf Farms began as Donald Wentzel's small duck operation near Milford, Indiana, in 1958. Starting with just 280,000 ducks his first year, Wentzel envisioned that the United States duck industry would grow substantially once more consumers tasted this succulent, versatile meat.
Wentzel's son-in-law, Terry Tucker, joined the business in 1963. He shared Wentzel's mission to provide Maple Leaf Farms customers with products that had "quality you can count on." He was sure that integrating Maple Leaf Farms' operations and increasing its control over each step of production would yield a superior product and increase consumer satisfaction. With this mission, Tucker led the company into a period of phenomenal growth, establishing Maple Leaf Farms as a leader of the duck industry.
Although Wentzel passed away in 1968, his vision has lived on at Maple Leaf Farms. Terry Tucker, his wife and their children have continued to set the direction for the company based on their family values-- contribution to our communities, responsibility to the environment, respect for others and insistence on high quality.
Today, Maple Leaf Farms is led by Wentzel's grandsons, Scott and John Tucker, and its high quality duck products dominate the market. While Maple Leaf Farms is a larger operation now, the company retains the integrity that comes from being managed by a family who cares deeply about their products.
Pierce Cartwright Main Contacts
---