Baker Boy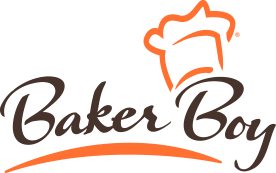 As a manufacturer of premium bakery products for foodservice, bakery, C-store, and private label customers, we make our word our pledge and our handshake our commitment. Baker Boy offers one of the most diverse portfolios of bakery products in all of foodservice - premium items crafted by real hands. We have the expertise and capacity to partner with large manufacturers in creating innovative private-label baked goods and bakery components for distinctive prepared foods.

Premium Baker Boy doughs give you the flexibility to create signature items, balance food and labor costs, and tantalize patrons with the aroma of fresh-from-the-oven baked goods. Easy-prep, par-baked items save significant time, reduce the need for skilled labor, and help prevent costly mistakes and product waste. Ready-to-thaw-and-serve or thaw-and-finish, our fully baked products help you expand your offering without adding resources.

Baker Boy's products include donuts, sweet rolls, pastries, buns, rolls, croissants, breads, breadsticks, hoagies, subs, pizzas, pretzels, cookies, desserts. biscuits, dumplings, icings, glazes, and smears.
Pierce Cartwright Main Contacts


---

Account Executive:
Pam Christy
Leads Contact:
Pam Christy
Customer Service:
Alice Clevenger